This one's for the pets: When you're out for walkies, you obviously want to make sure you get noticed and approached. Wearing the latest styles or a snazzy collar means hellos, head scratches and belly rubs, so it's important to keep up-to-date on your wardrobe. We've found some local shops that cater to your canine (and feline) closet. Woof!
COLLAR CHAMELEON
Just Dogs (125 Mason St.) in Saugatuck believes that dressing your dog up means putting them on display as a friendly pet. "They get so much attention when you dress them," said co-owner Jill Bunday. "It makes people come pet them and swoon over them, and it makes for a friendlier dog." The store carries plenty of canine accessories, including the Doggie Design line of harnesses with ruffles.
Here you can purchase dresses, T-shirts, coats and sweaters, along with rhinestone collars handmade by an artist. There's even a seamstress who makes bowties and bows that come in sets with collars or attach separately with velcro. "It's great to look nice on a walk, but you can take it off when you get home," Bunday said. Grooming is available and each pampered dog goes home with a bandana and a toy or treat. Stop in for Frozen Yoghund — frozen dog yogurt — and enjoy it in the store's outside seating.
DOGGY & ME TEES
Here's a theory on styling your pet: "It's fulfilling for pet owners to spoil their dog and I know a lot has to do with adoption — to be able to give to a dog that didn't have a good life and to be able to spoil them with a sweater for the winter — I think they feel they are giving back," said owner Alli McDonough of Fido & Stitch (820 Monroe Ave.) in Grand Rapids.
Styling your pet is easy in the summer with tees and tanks, along with a new baseball line and practical gear such as life jackets, cooling collars and bandanas you soak in water. Check out the Michigan T-shirts (with a pawprint over Grand Rapids), which also come in human sizes so you can match your best friend. When it comes to grooming, you can expect fancy breed cuts, cologne or perfume and complimentary bows and bandanas. With the tagline Pamper, Spoil, Repeat, this store has food, accessories and even Halloween outfits for your pet.
GROWLING GRANOLAS
The pet specialty store Bark's 5th Avenue (3015 Oakland Dr.) in Kalamazoo offers grooming, dog training, pet photography and quality accessories. The usual dresses, T-shirts and team jerseys are available, along with fashion for humans, but the shop's real emphasis is on outdoor life.
Outfit your dog with rugged, practical gear such as life jackets, dog boots (both hiking and winter), functional raincoats with liners and backpacks — your pup can carry a portable water dish and a few toys, and get some exercise hauling it all.
There's a whole wall of collars and harnesses, from sporty outdoor styles to fancy fabric options. As for grooming, you can go in for a spritz of cologne on the dogs, a Mohawk haircut or some color chalking, which a wash-out, non-permanent hair coloring option. Another draw: "We offer photography events in late summer and early fall," said owner Deb Watson. You can pick from different backgrounds and private sessions, and bring in your own special outfits.
HELLO THERE, SAILOR
Decadent Dogs (206 S. River Ave.) in Holland and South Haven carries everything for your canine kids and the humans who love them.
"We go for apparel with a purpose," said owner Roxanne Leder. One of the shop's favorite companies, Dogo, features a vest harness with blue-and-yellow striped polo shirts and pink-and-white outfits with a bit of eyelet lace.
"Because we are right on the shore of Lake Michigan, the nautical look is very big here," Leder said. So expect some sailor attire, rain ponchos and the usual fancy collars with crystal bones that catch the sun. "I really like the dog to feel comfortable in what they're wearing — something with a good fit that doesn't inhibit the dog from being a dog."
While the store doesn't offer grooming, it does offer some hygiene products, such as the Cain & Able line of shampoos and conditioners in lavender and eucalyptus scents. You'll also want to bring your four-legged friend into the store for the weekly Books and Barks storytime. Children and dogs hang out together on the floor, listening to stories about dogs. Canines practicing for their therapy dog certificates are encouraged to attend.


---
Furry and Fabulous
All animals need to feel extra special now and then. Pamper your pet with a bath, haircut, facial and much more at any one of the many spas and salons around West Michigan. Here's just a few spots we recommend: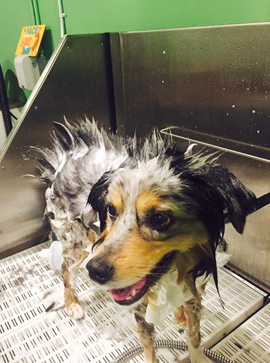 Fido & Stitch
820 Monroe Ave. NW, Grand Rapids, fidoandstitch.com
You may know Fido & Stitch for its pet apparel, luxury bedding, toys, running leashes and specialty food/water bowls, but the boutique also has a salon, staffed by two animal-loving groomers with years of experience. Get a body contour, a haircut, heavy neatening, whatever you want. Or just pay a small fee to use the store's facilities and wash your dog yourself!
Canine & Feline Design Inc.
2059 Lake Michigan Dr. NW, Grand Rapids, canineandfelinedesign.com
Whether it's a Pug, a Doberman or anything in-between, this West Side pet spa and boutique will treat your dog (or cat) right. The shop uses all-natural ingredients made specifically for your furry friends. One grooming session includes nail trimming, ear cleaning, skin conditioning, therapeutic massaging, a haircut and even an anal gland check (fun!) — so basically, the works. And don't even get us started on the spa treatments, which include a blueberry facial, dematting and much more.
The Posh Pet Dog and Cat Salon
2424 Eastern Ave. SE, Grand Rapids, poshpetsalon-gr.com
If you want a gentle, calming environment, The Posh Pet is the place to be. Bring your scaredy cat, your anxious canine, or even your brave pup to this Alger Heights salon. The staff loves animals with a passion and will be happy to meet your beloved pet and give it a nice "pawdicure."
VIP Grooming Salon
3338 Eastern Ave. SE, Grand Rapids, vipgroomgr.com
Do you have a Very Important Pet? Treat them to the finest skin regime, with VIP Grooming's special products imported from Italy's Iv San Bernard. The company has done extensive research into which products work best for specific breeds, skin types and coats. The Kentwood salon itself goes above and beyond, offering pet-safe nail polish, pet hair dye, feather extensions and designer cologne. Ooh la la!
Sitting Pretty Pet Spa
1107 Washington Ave., Grand Haven; 1891 Lakeshore Dr., Muskegon, sittingprettypetspa.com
If you've just spent a day on the beach and realize your pooch needs a mud bath, aromatherapy or some exfoliation, head to Sitting Pretty. On top of all the usual grooming options — haircuts, baths, nail trimming, etc. — this spa/salon/daycare/boutique offers massages and paw repair using a natural blend of oils, beeswax and other soothing ingredients.