Undeniably devastated in still incalculable ways, the music community here in West Michigan — and across the country — will be forever changed by the new coronavirus.
Yet as we all move through these challenging times of social distancing and self-isolation, the connection that music provides can still bring us all together in new and different ways.
Rather than try to tackle the insurmountable task of chronicling the countless ways things have changed and continue to change by the day, we at Revue decided to reach out to a few of the many artists and organizers who have stood up in this moment of crisis, to get their perspectives and share their experiences.
Lending a Hand
Back in March, the Michigan Music Alliance emerged early on as a beacon of hope for many local musicians staring down the stark reality that all their live performances — and the accompanying income — had just vanished completely.
The nonprofit organization started last year with the mission of providing the music community with business education and community building experiences. It hosted a series of successful events emphasizing collaboration and the development of sustainable support systems for musicians and others, when everything suddenly came to a halt.
"Our community was hurting, and we were in a position to help," Elle Lively, executive director of the Michigan Music Alliance, told Revue. "Most of our normal programming was canceled due to COVID-19 and, in all honesty, seemed irrelevant given the gravity of the crisis. This music community is full of venues, engineers, musicians and music lovers who actively support each other. This was how we could support them in this moment."
The Michigan Music Alliance then launched the Michigan Artist Relief Fund, which, as of early April, had raised more than $20,000 online and an additional $2,000 from the sale of its Support Michigan Music T-shirts.
"The fund is open to musicians anywhere in Michigan if they qualify," Lively said. "We are distributing funds via PayPal. We've released some funds already but are currently working with GoFundMe to get the money we've raised so far released as quickly as possible. There are no specific regional, within Michigan, or musical genre requirements for the grant."
The group also hosted Spread the Music: A Virtual Music Festival and began a nightly livestreaming concert series, Songs of Support, via Facebook, that has continued to expand as the crisis has continued.
"When this is over, I'm sure it won't go back to normal," Lively said. "We'll be adjusting, just like everyone else, to figure out how we can best help artists adjust to the 'new music business.' Everything has changed and we are here to support artists through that. We'll be putting together our normal summer programming starting in June and resuming our music business education programming in the fall.
"However, Spread the Music Festival will be making a yearly appearance, starting next spring, since it was such a hit. We're going to do it every year to raise funds for the Michigan Artist Relief Fund. Hopefully, we can retool the fund after the COVID-19 crisis into a standard emergency fund to help artists who are dealing with a health crisis or other unexpected circumstances."
If you're looking to support or be supported by the Michigan Music Alliance, head to michiganmusicalliance.org.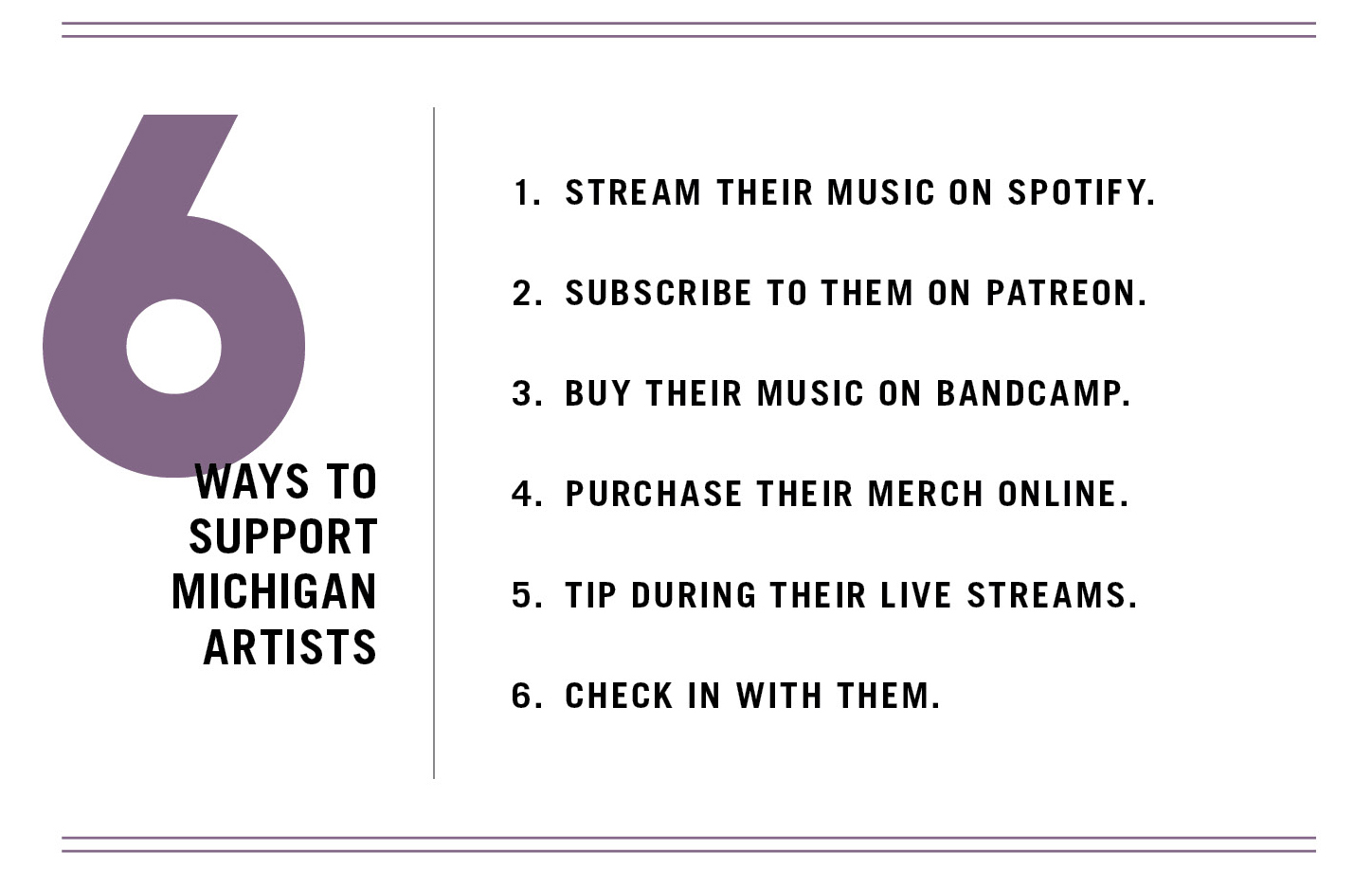 Going Virtual
As days quickly turned to weeks, then months, concerts went online, with musicians turning to every social media platform and web conferencing app to connect with fans and newcomers alike.
Livestreaming emerged as a stopgap solution for many performers looking to generate some sort of revenue in this difficult time and keep their names out there.
In March, Emilee Petersmark of Grand Rapids indie-folk band The Crane Wives and Korey Schnell started Stay In Your House Shows, a virtual show space on Facebook where artists could join a lineup for an evening of music. The series began with its first show March 20, with artists sharing the profits from the digital tip jar.
"We wanted to have at least like a week to promote and get the word out, because at that point, the home isolation thing was still a new idea and nobody really knew what was happening here yet," Schnell said. "But we knew it would become a serious thing where people would be seeking out entertainment. We gave ourselves a week to promote it and within 48 hours we realized, 'This is perfect.' I don't think anything else had been posted on Facebook yet at the time, with that kind of an idea. It just took off really quickly."
With Petersmark's music community connections and Schnell's practical experience working as an event and project manager during his Steelcase day job, the first show became an almost instantaneous hit.
"We thought it would be great if we raised $200 and everybody got like $25 or $50 for their 30-minute set," Schnell said of their initial expectations. "But we actually ended up bringing in a couple thousand dollars, and every show that we've done, the artists have gotten a couple hundred dollars. It's been really helpful for the artists and it's really great for us to be able to pass that on."
Stay In Your House Shows has weekly concerts scheduled through May 1 and will keep planning as things keep going.
"There's going to be a lot of restrictions when it comes to entertainment, so I don't think that's going to change by the time the stay-at-home order changes," Schnell said. "I'm happy to keep this going if there's a need."
Bracing for Change
Every year, live music in West Michigan undergoes a transformation as soggy springtime forecasts give way to summertime celebrations. With serious social distancing efforts in place for the foreseeable future, major outdoor music events such as Grand Rapids' Festival of the Arts, Camp Greensky and an increasingly long list of others have gone from on-hold to completely canceled.
Even the area's biggest music festival, Electric Forest, remains in limbo, as tentatively rescheduled dates for September have created new conflicts.
Many individual artists, reeling from the onslaught of canceled gigs, had hoped for the warmer weather months to act as their shining silver lining, which looks increasingly less likely.
For singer-songwriter Nicholas James Thomasma, May was primed to be one of the biggest months of his career.
The host of Founders Open Mic Night, now virtual on Instagram, Thomasma planned to work at Lowell Arts Song Camp this month and appear at the annual Buses by the Beach benefit and Founders' Bob Dylan Tribute concert. All those events would have led up to the release of his latest album, Rolling Home, which he still plans to release on May 30.
Daily, Thomasma shares a list of artists he plans to watch by the hour, encouraging others to support artists online.
"That has been one positive about this," he said. "I am listening and watching more local and live musicians than ever. Unlike being in a bar or at a festival where I am easily distracted, I am home and alone. They have my attention. There have been some really great performances by a lot of my friends. The downside is that we can't really play together. I really miss playing with my band and I miss my community of performers at Founders Open Mic.
"Technology hasn't figured out a good way for us to jam in real time with good audio quality and no lag. I'm fortunate in that I am comfortable performing solo, but I do feel for the drummers, bass players and accompaniment musicians who are not able to just play by themselves. Livestreaming has connected me to my audience in a completely new and different way."
Thomasma continues writing new material, uploading songs as videos to his Patreon account, where supporters can follow his experiences working through this pandemic.
"Since I can't go out, I've invested in learning how to connect online. I'm doing web trainings on artist services and streaming platforms. I'm writing a business plan and working with my bank on a business checking account. On top of that, I'm still struggling with filing for unemployment, staying on top of artist relief resources, looking for opportunities, working with nonprofits, writing new songs and learning new cover songs for the all-request hour every Wednesday at 8 p.m. I understand some people are taking this time to relax and others are feeling frozen. I just need to keep working. It's just who I am."
Learning Alone, Together
Many artists have gone online to share their creative talents in an instructional capacity, extending lessons to a wider base of online students stuck at home.
Ashley Daneman, co-director of the Kalamazoo Music School and the Jazz & Creative Institute, immediately moved the schools' lessons online in mid-March.
"It was very important that our 17 teachers didn't lose any more income, since they already had all of their gigs canceled and some of their other teaching had stopped as well," Daneman said. "Many of them told us that this was the only work they still had."
Daneman had planned to host the first-ever Authenticity Kalamazoo this month. As founder of the genre-crossing event, she wasn't sure about moving forward with the project as it would take a lot of community support. After consulting with the Arts Council of Greater Kalamazoo, who contributed grant money to start the series, she decided to forge ahead.
"I created this to bring the intimacy back to the exchange between artists and their audience," Daneman said. "Musicians need to really be heard and to play as if they are being heard. People need to come together from all walks of life, and genres, and know that we are one community and a rising tide floats all boats. This crisis has highlighted how we are all connected and how our lives are intertwined to an extreme point. Authenticity Kalamazoo is meant to remind us of this and transform our community for the better. While I initially wasn't sure about proceeding with the series, it occurred to me that the pandemic has weirdly paved the way for Authenticity to be exactly what we all need when this is over. Authenticity will now have a community healing aspect to it that it wouldn't have had before."
Daneman selected the 12 bands who will participate in the project and plans to wait on selecting a future date. Doubting that concerts will resume any time before July at the earliest, she still turns to music to help her through these difficult times.
"I have a long history of my music helping me and others cope with trauma, as I think many artists do, but it was all our individual trauma. Music gives structure and words to something inside us that we couldn't otherwise process, and it allows us to lay pain and confusion to rest via that creative process. With music, we have a beginning and an end, a high and a low note, to act as parameters to our painful experiences — and thus, the pain no longer runs free to overtake us.
"What is curious to me now is this idea of collective trauma. My hope now, as it has always been, is that musicians would be more vulnerable in their writing and onstage with their audiences. That willingness to really let your audiences into your experiences, and let them in energetically with your body and your intentions, is where I believe we recall the beauty of our oneness as humanity."
Getting Creative
Literally welcoming its audience into the music-making experience, Grand Rapids band Earth Radio asked fans to join a virtual choir it aimed to assemble for its new song, "Evolve."
Local musician Brian Lybrandt recorded a new EP between March 30 and April 5 as a fundraiser for the Michigan Music Alliance's Artist Relief Fund and the MusiCares Coronavirus Relief Fund.
"I'm a goal-oriented person and setting a goal to record music in a short time frame was a good way to curb my anxiety about everything going on," Lybrandt said. "It was loosely inspired by Bon Iver's Blood Bank. Hopefully, it can help someone who needs it."
Local record label, recording studio and collective group of musicians HOOM Hits released a three-volume compilation of songs recorded by artists during the outbreak. Available through hoomhits.bandcamp.com, the collection features more than 40 songs and all donations will go toward benefiting music venue The Pyramid Scheme.
"The whole idea for a quarantine compilation came from a meme I found while stuck in the endless panic scroll shortly after the country officially went into a state of emergency," HOOM Hits member Vanessa DeCouto said. "In the midst of a lot of heavy doom brain, the community organizer in me — who will probably never die — almost immediately wanted to make a thing happen."
One aspect of the project was to encourage peers to stay home and work on a song while committing to social distancing to help flatten the curve.
"In part, it was a way to keep my own head on straight and have an alternative place for my mind to go instead of the bottomless pits of worry and anxiety that came with those first few scary days of quarantine," DeCouto said.
"Being creative has always been a huge part of my lifestyle that grounds and makes me feel like my most authentic self," member Jenn Meade said. "It only feels natural to maintain that, regardless of what's going on in the world. It feels even more necessary during these strange times, in order to keep some level of sanity and consistency. While many parts of our lives are out of our control at the moment, creativity is something we all still have."
"I'm a big believer in the healing properties of creating," member Spencer Brown added. "It's a way of connecting to an energy that's universal. It's hard to explain, but it's magic and it scales. It's important for folk to create, especially during times of uncertainty and strife. Not only to document the times but to mend wounds in culture. Folks have a lot to learn from each other and this is a good way for people to do that."
The New Normal?
Some bands are still pressing on, undeterred by the changes they must make to create and release music.
Grand Rapids synthwave group Von Kaiser plans to release its new album, Ghosts of Miami, on May 4.
"We will always release music on the same dates as planned," Von Kaiser vocalist/keyboardist Kaylin Heydenburg said. "For our listeners, seeing a live show isn't as important as getting new content, and that's our goal: to always be putting out something new for the listener.
"We'd planned to play quite a few shows leading up to the release but have compensated during this time with live stream performances. We think we've actually reached quite a few more fans than normal, so I think it's benefited us."
Two of the three Von Kaiser members work at the same company; its third member has only been exposed to the band during the past two weeks. They admit they've been forced to take some level of acceptable risk to make livestreams happen and support its Patreon page.
"Synthwave is by classification an electronic music subgenre, so in essence, this music has, from inception, been primed for the digital world," Heydenburg said. "Unlike an acoustic band, we don't suffer limitations in miking instruments to create our live sound. As a result, it streams almost perfectly to the audience. Patreon has given us an opportunity to reach diehard fans and make content just for those that would desire it. It's such a great way to cement core fans."
With real-world live music events uncertain, booking agents, venues and other organizers continue to improvise.
Calvin University had planned to host a local music showcase in May. Going virtual, notes Jack Droppers, Director of Student Activities, isn't necessarily an option.
"Given the size of the artists we booked, I'm not sure we are going to be able to pull that off," Droppers said. "As of right now, we're working on rescheduling the show for the fall. My hope is to have that one be early in the school year, as a celebration of finally watching live music again."
Calvin's Student Activities Office bounced back from the brink last year, after facing funding shortfalls and an uncertain future well before the pandemic.
"The #saveSAO movement helped solidify the conversation around faith and popular culture as a central piece of the Calvin ethos," Droppers said. "Had that moment happened a year later, now that cutting programs and staff feels like a necessity for every higher-ed institution in the world, it's hard to believe the result would be the same. However, given the timing, I believe the Calvin SAO is set up to overcome the obstacles ahead."
A musician in his own right, Droppers is beginning to realize there are many things simply not replicable online that he hopes to get back to soon.
"I do miss playing shows a lot right now, but even more so, I miss simply playing with my band (the Best Intentions). I have found it best to be present to both the gifts and hardships of this time, while reminding myself when this is all over, we're gonna play rock 'n' roll with our friends."